There are other ways to get around in the winter besides skiing!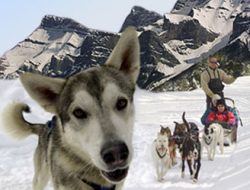 Banff dog sled tours , Lake Louise dog sled tours , Canmore dog sled tours and Panorama dog sled tours are great tours to fit in around your skiing time.
With the convenience of tours departing from or near the main ski areas, you can easily integrate a dog sled tour into your ski holiday in Canada.
The dog sled tours all have timings so that you don't have to take a full day off skiing or you can add another tour such as snowshoeing or snowmobiling to maximise your precious ski holiday time in one place.
Getting to the dog sled tour meeting point has never been easier with increased transfers for winter 2008.
For more information on
dog sled tours, visit rocky-peak Holidays and click on the dog sled tours link at the bottom of the page. The great thing about booking with rocky-peak Holidays is that you pay no booking fees!