RCR Sells Part Ownership In Lake Louise; Locke Buys Back In
By Becky Lomax
Source: Mountain News Corporation – Industry Report
Resorts of the Canadian Rockies (RCR) has sold part of the Lake Louise Ski Resort in Alberta back to former owner Charlie Locke, The Industry Report has learned.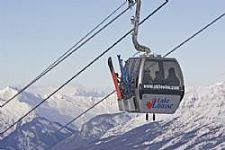 Papers were signed in late October, Matt Mosteller, Vice President of Business Development for RCR, told the IR today. The agreement transferred 50 percent of the ownership from RCR to Locke, who will assume the role of managing partner for Lake Louise.
"For me, this is not so much a business decision as a return to a fundamental passion," said Locke in a written statement. "My family and I are very excited about getting back to the mountains and reinvesting our energies to ensure Lake Louise continues to be Canada's favorite ski resort."
Locke originally invested in Lake Louise Resort in 1974 and helped finance many of its first lifts. He bought into full ownership in 1981, running the resort as its sole owner for 20 years. Locke, who gained a legendary reputation for pioneering climbing routes in the Canadian Rockies, built his fortune through gas and oil leases and added Fernie, Kimberley, Mont Saint Anne, and Stoneham to his portfolio under the RCR umbrella.
RCR shifted ownership in 2001. Murray Edwards, RCR chairman, purchased a 50 percent interest in the company and paid off the balance in 2003, which transferred sole ownership of Lake Louise to RCR. Locke retired from the ski business, but continued ranching, real estate, resources, and recreation investments in The Locke Stock & Barrel Company, his holding company.
The new partnership between Locke and RCR will operate Lake Louise under a new company—The Lake Louise Ski Area Ltd. The resort will operate independently of, but associated with, RCR.
"Charlie will handle the day-to-day operations of the resort," Mosteller told the IR. "The partnership was the right thing for us to do and the right thing for Charlie."
Locke intends to invest additional resources in the resort. Initiatives high on Locke's to-do list include a focus on customer service, full dedication to snowmaking and high-quality grooming, and enhanced après ski options.
"We understand that it's about the whole experience, and we're committed to making sure skiers and snowboarders, kids, families, and young adults have the best time possible on the snow and after," said Locke. "In addition to reintroducing a quality terrain park with all varieties of features, we're also looking at more dining options, events, and entertainment."
The shift in ownership will have no impact on 2008-09 ski products or rates. All multi-resort passes will have the same skiing and boarding privileges as before.