Sunshine Village is open, with a rockin' 60-cm base of pure, natural snow!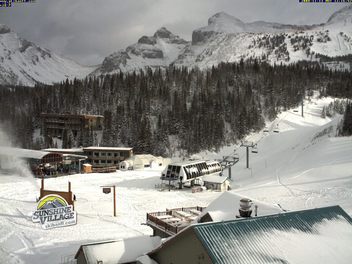 Date: November 13 2008
It's early-season conditions. The Strawberry lift will open at 9 a.m., and two quads – WaWa and Standish – will be in operation by noon. Guests are advised to ski and ride with care, because terrain will be somewhat limited and there may be some natural unmarked hazards.
More runs are expected open Saturday, as crews finish preparing runs. Early season discounts apply, with Friday's rate at $55.95, plus GST.
It's also a great time to stay on the mountain, at Banff's only ski-in, ski-out hotel. The Sunshine Mountain Lodge, formally know as the Sunshine Inn is offering discounted rates, with packages starting at $139 per person including next day skiing. Some restrictions apply. Please contact rocky-peak Ski Holidays for details.
You can call Sunshine Village's 24-hour snow phone at 403-760-SNOW (403-760-7669).
Information provided by Sunshine Village.