Perfect for a family of 2 adults, a youth and 2 children and no one has to sleep in the living room!
What you get:
2-bedroom unit in the Aspens on Blackcomb Mountain – this is perfect for families and the unit included in this ski package was renovated in 2006. The Aspens is a ski-in/ski-out property.
You get everything else you would need on a Ski Holiday in Whistler including airport transfers, ski passes, ski rentals and ski lessons. Children ski and rent FREE.
Applicable dates: Checking in on December 18 2009 for 9 nights. Check out December 27 2009.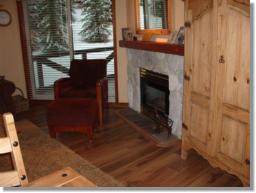 Property Summary:
Two Bedroom, 2 Baths, ~881 sq ft
Bedding: 1 Double Bunk, 1 King, 2 Queen
Style: Condo
Entrance Style: Elevator
Fireplaces: Gas Fireplace
Layout: 2 large bedrooms, 2 bathrooms, Beautiful living area, fireplace, fully equipped kitchen, six person dining, ground floor patio
Living Area: Beautiful living room furniture, sofa, loveseat and chair/ottoman, fireplace. New flooring in 2006! Many personal touches.
Dining Area: Large table with six chairs.
Kitchen: Full Kitchen with all amenities, new dishes and cookware, granite counter tops.
Property Amenities:
- Heated Pool, Two Hot Tubs
- Unique Features
- Ski-in, Ski-out / Free Ski Valet Service
- Internet
Discounted "early bird" package below:
- 9 nights – 2-Bedroom renovated unit in the Aspens described above.
- 7 of 8 day lift passes – 2 adults, 1 youth, 2 children *children ski free*
- 8 day ski adult rentals – 2 adults, 1 youth (Beginner skis/boots/poles) *children rent free*
- Return scheduled airport transfers (door-to-door): 2 adults, 1 youth, 2 children
- Lessons – 5-day Ski Esprit Weeks starting Monday DEC 21 (Group Lesson ski level 2-6) – 2 Adults
- Lessons – 5-day Ski Adventure Camp starting Monday DEC 21 (Group Lesson ages 7-18 years) – 2 Children, 1 Youth.
Discounted package price including all discounts, promotions and taxes: CDN$8,475 (~US$7,656). Price is based on 2 adults, a youth and 2 children. No further discounts permitted.
For more information on this Ski Holiday in Whistler send a ski holiday booking request.