WHISTLER BLACKCOMB
SMASHES RECORD FOR SNOWIEST MONTH EVER WITH OVER 5.5 METRES (18 FEET) OF SNOWFALL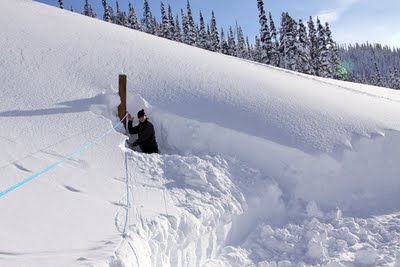 Photo credit: Mike Mills / Location: Whistler Blackcomb
November 2009 takes the podium as Whistler Blackcomb's snowiest month in recorded history.

WHISTLER, BC, December 1, 2009 – As the calendar flips over, it's now official that November 2009 will go down in history as the snowiest month on record at Whistler Blackcomb, dating back to when the collection of weather data began 30 years ago.
November 2009 has seen a total accumulation of 560cm (220 inches) of snowfall, nearly four times that of November's average snowfall of 148cm (58 inches). This is an increase of more than 19 per cent over the previous record of 469cm (185 inches) set in January 2006, and a 22 per cent increase over January 1992's record of 459cm (181 inches).
"Whistler is already known for reliable early season snowfall and this year's record breaking start sets us up for an unbelievable season," says Stuart Rempel, senior vice president of marketing & sales at Whistler Blackcomb. "To begin the season with a record breaker the likes of 5.5 metres of snowfall has certainly heightened the level of excitement in the resort, especially in this year, as we prepare to be a host venue for the 2010 Olympic and Paralympics Winter Games in February."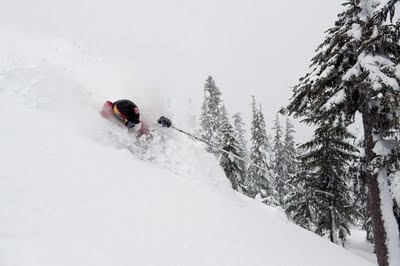 Photo credit: Scott Brammer / Location: Whistler Blackcomb
And now, with the record broken, there is still an entire season of skiing and riding to look forward to. With a season that offers 192 days of skiing and riding, Whistler Blackcomb is already over half way towards the resort's average annual snowfall of just over 10 metres (33 feet).
"With amazing conditions and stay and ski packages starting from $103 per person per night, there are some great deals to be had," says Rempel. "Combine this with plenty of availability leading up to and following the Games, the new PEAK 2 PEAK Gondola which opened to incredible reviews last winter, and slopes that are expected be quieter than usual, and there couldn't be a better time to visit Whistler Blackcomb."
Both Whistler and Blackcomb mountains are now open, offering thousands of acres to ski and ride at North America's largest ski resort.