Canada - Ski Kicking Horse
The face of Kicking Horse and indeed the mountain itself is ideally positioned to accommodate an outstanding winter season ski resort.
North-East facing slopes allow for excellent snow retention. Mother Nature chips in to provide enough high-level moisture, sun, temperature and super-dry, low-level air to create and preserve Kicking Horse's perfect powder.
The quality of this fine, dry Purcell Powder has for years been the closely guarded secret of the region's local skiers.
Kicking Horse also boasts the greatest vertical in the Rockies with its longest run being 16km (10 miles).
So come, experience the famous "champagne powder" Kicking Horse has to offer.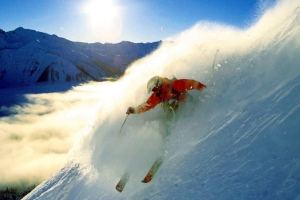 Staying in Banff or Lake Louise? Day trips are available from Banff or Lake Louise on the Kicking Horse Powder Express for little more than a cost of a day pass.


We can help you choose the ski resort which is right for you, so if you need any help planning your Kicking Horse Ski Holiday, please contact us direct.
Kicking Horse Ski Resort Statistics

| Open | Close | Base (m) | Peak (m) | Vertical (m) | Size (Acres) | Snowfall (cm) |
| --- | --- | --- | --- | --- | --- | --- |
| mid-Dec | early-April | 1,190 | 2,450 | 1,260 | 2,750 | 477 |
Kicking Horse Ski Resort Trail Statistics

| Snow Making | Trails | Longest Run | Total Length of Runs |
| --- | --- | --- | --- |
| 1% | 106 | 10 Km | ~70 Kms |
Kicking Horse Ski Resort Terrain

| Beginner | Intermediate | Advanced | Expert |
| --- | --- | --- | --- |
| 20% | 20% | 45% | 15% |